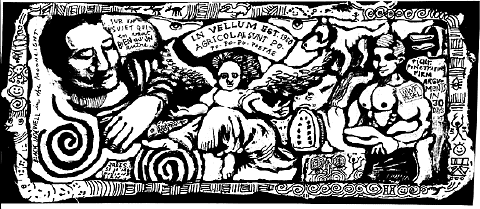 ---
In this issue:
Pataphysics News
The deadline for papers for the Asymmetrical Logic Awards is approaching. This deadline has been extended by a month due to the low number of submissions.
This week, Professor Granville Boxxe announced the opening of the new Laboratory for Pataphysical Research in Tuscaloosa, Oklahoma.
Lent Kahan, one of our members in Yuma, Arizona was featured in a National Public Radio news item entitled "The Science of Philosophy." Cassette copies can be obtained through this journal.
An engagement within the pataphysical community has been announced. Hildy Brague, our Executive Director, will marry Jack Rabin, a successful manufacturer of razor blades, on May 23rd of this year. Ms. Brague, a native of Nice and heir to the Brague steel fortune, and Mr. Rabin, a recent immigrant to New Zealand, will honeymoon in Tierra del Fuego.
This year The World Pataphysics Association's annual convention will be held at Disneyworld: the theme is "Can Literalists and Spiralists Co-Exist?" Contact the Association for charter and hotel information.
All of our readers will be glad to know that our Washington correspondent Theresa Silam might be granted an interview with President Clinton to discuss the needs of the pataphysical community. Good luck, Theresa!
We have received many letters about the omission of a pataphysical reference in the Broadway show, "Miss Saigon." Our readers will be happy to know that we have received an agreement from the producers of the show for an interview with our journal. We hope to have it ready for the next issue.
Noted Pataphysician Cy Klaffman staged a demonstration of Symbolic Disfigurement in New York City's Central Park earlier this month. For those who missed it, it will be repeated soon. Contact the Journal if you're interested.

---
LETTERS TO THE EDITOR
Dear Warren,


Although ordinarily I would not deign to respond to such ludicrous claims, I feel a moral obligation to state my opinion concerning the cover article in your last issue. I have been subscribing to your usually quite intellectually respectable journal for many years now, and I have never come across such irresponsible criticism in all my years as a pataphysician.

First, at the start of the essay, you begin by using unsubstantiated research to serve as the foundation of your argument. What you are arguing has, at least in the most rigorous circles, been generally accepted as irrelevant, yet