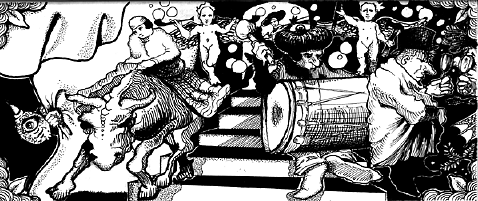 ---
In this issue:
Pataphysics News
Pataphysics News
Professor Granville Boxxe of the Laboratory for Pataphysical Research in Tuscaloosa, Oklahoma is soliciting corporate sponsors for applied pataphysics research. He may be contacted c/o this journal.
Yoruba Community College is again offering a "Young Pataphysicists Camp" for children from 14-27 (no pataphysicians, please!) Please contact Thane Possle at the College.
Professor Earneast Glab of the Institute of Non-Logistical Archaeology announced last week that he believes that one of the Dead Sea Scrolls is actually alive and living in Miami.
Pataperfikt, Inc. has announced a line of interactive belief transfer workstations. Their proprietary software/hardware system allows pataphysicians to transfer their ideas directly onto T-shirts.
We are sorry to report the death of veteran JoPR reporter Forb Albin. His erudite writings graced the pages of this journal for almost a year. The police promise that more information will soon be forthcoming.
The Baton Rouge Weekly Shopper is thinking of adding Vita Kassler's "Patapuzzles" column to their roster. This would make the fifth periodical containing a column about pataphysics, another sign of the increasing acceptance of pataphysics in the mainstream.
The deadline for the judging of Asymmetrical Logic Awards has been extended by a month due to the high quality of both submissions.
In a surprise resolution to the Bogman/Hargreaves plagarism case, a county court ruled today after a record 6-month deliberation that the two articles in question, "Pataphysicists on Pataphysics" and "Pataphysics by Pataphysicists," although substantially the same work were independently created by both the plantiff and the defendant. In his closely reasoned 30-page analysis, Judge Farsee of the Kings County Court writes that "the entire concept of original material is not pertinent to this case, since both works consist entirely of citations from other sources."
---
The Miss Saigon Interview
Exclusive to The Journal Of Pataphysical Reviews.
By now you are all aware of the intense controversy that has raged throughout the pataphysical community regarding the obvious omission of a pataphysical reference in Miss Saigon. Is this an inspired artistic decision, an oversight or an intentional act of censorship by a hostile, narrow-minded few?
The Journal of Pataphysical Reviews has managed after many months of effort to obtain an interview wit